Reading Time -
2
min
Short answer: 1920×1080.
If you are designing or developing software, you must be curious about which screen resolutions are most common. For information-heavy UIs, this is specifically important because you need to ensure that your design works well and is visually appealing on a variety of devices.
In reality, the answer depends on where you are in the world. According to StatCounter.com, currently, the most common screen resolution is 1920×1080. Other resolutions in the top five include 1366×768, 1280×1024, 1024×768, and 768×1024. However, bear in mind that just because certain resolutions are more common than others this doesn't actually take into account how wide the user has their browser window. So, always do user testing to ensure that your design looks and works great at all resolutions.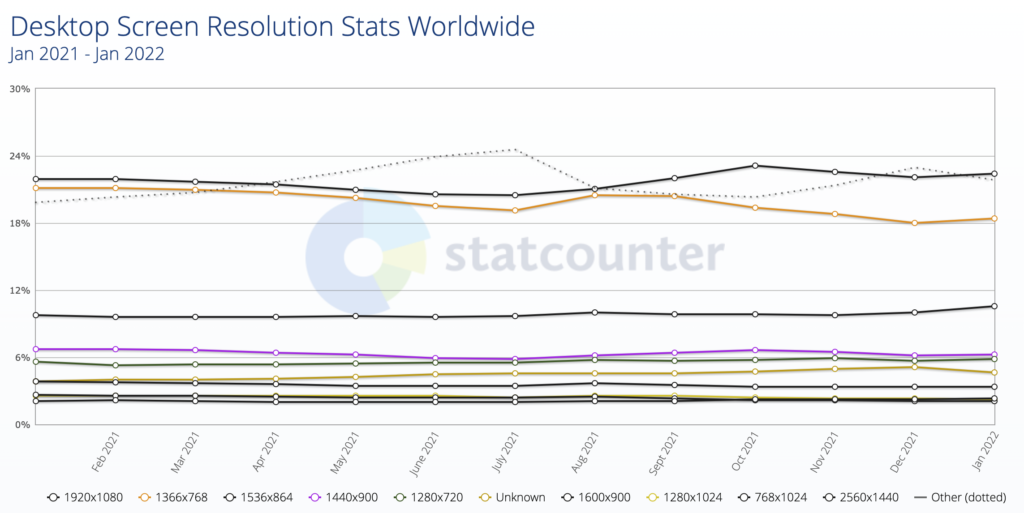 The choice of minimum screen resolution all comes down to how many users you are willing to exclude from your design. If you are targeting the general population, 1366×768 or 1920×1080 is a good starting point. However, if you are targeting a specific niche market, you may want to consider targeting other resolutions. Previously, we have talked about the smallest screen size to design for. You should optimize for the smallest one as well as the most common resolution.
Look at the Data
To get the best measure, you must look at your own data. There are several free analytics tools you can use to track this data such as Google Analytics, Mixpanel, and Kissmetrics. You can also use heatmaps to track user interactions on your website. This will help you determine which resolutions are being used most often by your users. If you do not have this data, you can make wise guesses by considering the following aspects:
Who is this app for? If it's an internal app for your company, talk to IT and see what resolution employees screens are set at. Try to get data of the employees who will be using it.
For public apps, if you do not have the data, try to find data from other competitors or similar websites or apps.
Look at the most popular devices that your app will be used on. Which OS or browsers does your app support?
Conclusion
The most common screen resolution in 2023 will most likely be 1920×1080. This is because it is a resolution that is currently being used by the majority of users and it is also a resolution that is supported by most devices. However, it is important to note that this may change in the future, so it is always important to do user testing to ensure that your design looks and works great at all resolutions.